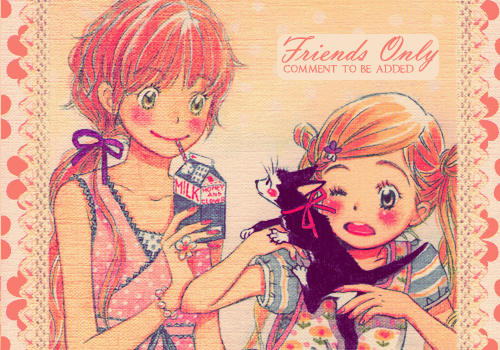 Harley Cooper was my fanfiction persona. And, although I've enjoyed her company as she helped me through a difficult transition in my life during high school, she still remains a costume and a mask for me to wear. She had also stiffled me emotionally as a person since I constantly use her as a way to escape the real world because I was so fantasy-oriented before that it has made me insecure. She didn't open a lot of doors for me, only small cracks where I stil keep people at arm's length even though being in an online blog is already as distanced as I can get. But I want to change that. And hopefully it'll be for the best.
My real name is Francesca Garchitorena.

Full name is Paola Francesca Nelia Grace Flores Garchitorena. I go with the nicknames Frankee, Eka and Chekikay.

I'm a Filipina with a Spanish-Malayan heritage. My surname Garchitorena goes way back during the Spanish Era in the Philippines. According to my father, our ancestor is a Spanish priest boarding Ferdinand Magellan's ship. That makes the first generation of my family insulares (Philippine-born Spaniards). My family is originally from the province of Bicol but there's also a province in Camarines Sur named after Don Andres Garchitorena, a very distant relative (waay up in the family tree during the 1900's). I'm an aspiring writer, a freshman at De La Salle University, Cavite, taking up Broadcast Journalism. I am also a member of the literary section of the student publication Heraldo Filipino. I'm a Taurean Enneagram Type 4 born under the Year of the Horse.

I'll be turning 20 on the 24th of April.

I have a younger brother with autism named Francis Xavier and I fondly call him 'little boy blue'. My mother owns a tutorial center called Power Memory and my father has recently retired from being a medical representative from Bayer Pharmateuticals and now owns a laundromat business.

It's very nice to meet you all. I joined LiveJournal back in 2006. It's also the same year I started writing fanfics. My public journal
harleycooper was for that purpose while this one was supposed to be private and personal. It took me some years to find the courage to write more about very personal stuff and I'm starting to feel really good about myself becase of it. A lot has happened to my life: godless times, discovery of my fickle sexuality, dropping out of college. This year I've finally learned to stop hiding from the real world and so now I try my best to balance the imagined one alongside it. Thank you very much to each and one of you and I hope we get to know each other more because, from now on,
writer_craft will have more zap to it. All things that are written here would range from the ordinary to the bizzare and I only ask that my privacy will be respected as much as I respect yours :)

NOTE: I've unlocked some entries that I don't feel are dangerous to reveal to public.
Oh great I am:
artistic